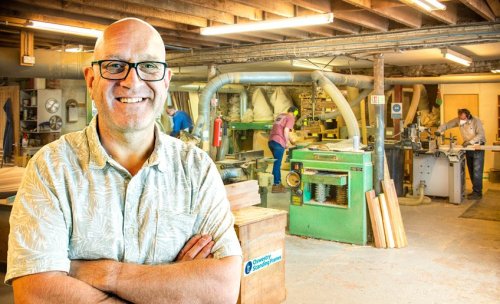 From wheels and furniture to medical apparatus
A potted history by Managing Director Einion Davies (shown above)...
All our products are designed and manufactured in our own workshops near Wrexham, on the same site that our joinery business used when it first opened its doors in 1955. From humble beginnings as skilled wheelwrights, generations of our family have proudly produced high quality wood products. From the production of cart wheels, we moved on to the restoration of farm buildings, and as the decades passed, so we developed and perfected our skills in the art of furniture making. High quality craftsmanship has been, and always will be, at the heart of everything we do.
In 1973, we were asked by a consultant physician who was clearly ahead of his time, if we could manufacture a standing frame for a patient of his with a spinal cord injury. At the time, there was nothing else on the market but our carpenters were keen to help, and so they built the first product in what was soon to become our specialist area of expertise. Since then, the Oswestry Standing Frame has undergone decades of development and refinement to meet the needs of end-users and clinicians alike.
Although the basic design concepts of the Oswestry Standing Frame have remained largely unchanged, we take every opportunity to collaborate with healthcare professionals to improve upon specific design features, optional extras and the materials we use. We are proud of our customer service and our quality control standards. Each stage of the production of a standing frame is rigorously checked against specific criteria to ensure that the finished frame is as perfect and as functional as you would expect it to be.