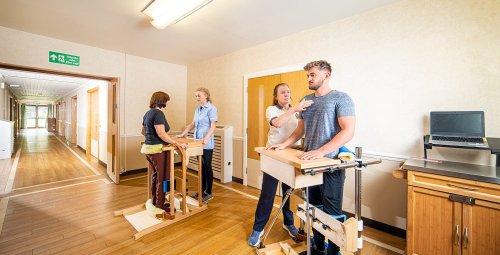 Adjustable and custom standing frames built in the UK
The very best standing frames
The Oswestry Standing Frame was first developed nearly 50 years ago in conjunction with the Spinal Unit of the Robert Jones and Agnes Hunt Hospital in Gobowen near Oswestry. Now in continual use by most UK hospitals, including the leading spinal injury units at Gobowen, Stoke Mandeville Hospital and the Royal National Orthopaedic Hospital at Stanmore, our frames are used for rehabilitation post spinal injury, as well as for neurological conditions such as MS (multiple sclerosis), cerebral palsy and stroke.
Our standing frames are available in both fixed-height (wooden) and adjustable-height (wood and stainless steel) versions, with or without a powered lifting mechanism. They are robustly built yet relatively light in weight, the adjustable-height frame also being quick and easy to dismantle for transportation or storage.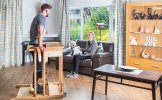 Frames for private customers
Assisted standing at home can be achieved with an Oswestry frame and powered lifter designed to help you rise from a seated position. The benefits of standing are widely recognised, not least for promoting overall wellbeing and a sense of belonging post spinal cord injury, or for those managing MS.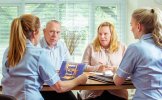 Frames for healthcare buyers
Our standing frames are prescribed by NHS and other healthcare practitioners, made to order for users with debilitating conditions such as MS and SCI. Robust, high-quality and cost effective, they are often seen as more beneficial than physiotherapy treatment.
Sustainability, service and quality
Our customers really are important to us and we enjoy exceeding their expectations. Attention to detail and care in what we do ensures the highest standards of service and quality control; from initial enquiry, through manufacture, and on to after-sales support.
Based in North Wales, we take our environmental responsibilities very seriously, priding ourselves on being a carbon neutral manufacturer whilst at the same time being competitive on pricing. Steamed beech wood is sourced from FSC sustainable sources and we recycle all our sawdust in order to heat our workshops.
Collaboration with the country's leading healthcare specialists helps us to continually develop our products, using materials preferred by clinicians, further improving our standing frames over time.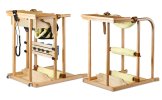 Custom-built standing frames
Your custom standing frame will be built to order, taking into account your exact body measurements and specific requirements. You can choose from a range of optional extras designed with increased support and independence in mind, such as trunk supports or a power-lifter complete with harness.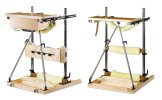 Adjustable standing frames
Adaptable, lightweight and collapsable, our adjustable standing frame is a dependable alternative to our custom products. Designed to offer assisted standing in a range of multi-user situations, optional extras include an adjustable table, and quick-release buckles.