The Adjustable Oswestry Standing Frame
The Adjustable Oswestry Standing Frame is incredibly adaptable, relatively lightweight, and can be collapsed down for transporting in the boot of a car. Yet despite this useful flexibility, it remains solidly robust and capable of supporting tetraplegic users through optional extension poles. As with our custom product, the adjustable frame ensures perfect mid-line stability and encourages bone and muscle development. The frame helps digestion, bowel and bladder function, reduces the risk of scoliosis and pressure ulcers, and even aids respiration and speech by comfortably holding the body in the perfect upright posture. For healthcare environments, the adjustable frame can be supplied with either standard polypropylene webbing and quick-release buckles, or the optional leather straps shown.
Price from: £950 excl. VAT*
depending upon size and extras required
*VAT relief allows chronically sick or disabled people to buy eligible items such as our beds at 0% VAT - click here for more information.
---
Adjustable frame with leather straps
Our sturdy adjustable standing frame comes with three acrilan- fleece support straps for (1) behind the hips, (2) in front of the knees, and (3) behind the heels. Its wide range of adjustability makes it particularly suitable for multi-user environments.
Adjustable frame with trunk supports
Optional trunk support poles offer additional bracing for tetraplegic users. In addition to the standard lower support straps, two additional acrilan-fleece-covered straps hold the user upright: one in front of the chest; the other behind the waist.
With power-lifter and knee supports
An electrically-powered lifter can be fitted beneath the frame's table to assist wheelchair users into the frame (see video below for demonstration). The lifter comes with a controller unit and a detachable, washable acrilan-fleece harness. Also shown here is the optional knee support unit with high-density foam offering additional lateral support over the standard knee strap.
Many other optional extras are available
All the extras shown above can be fitted to existing frames, and other extras include wipe-clean vinyl sleeves, leather straps, quick-release buckles (more practical than the standard seat strap in busy healthcare environments), a fixed high-table, or a fully adjustable table (cannot be fitted together with a power-lifter).
The optional power-lifter in action:
Key dimensions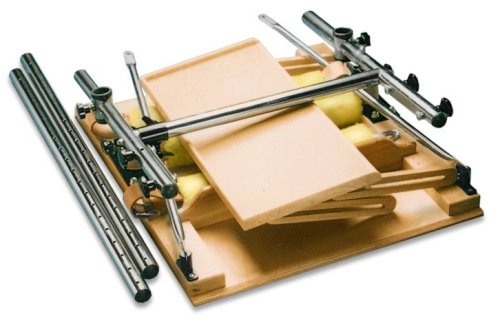 Above: the adjustable frame can be disassembled and flat-packed for easy transportation in a car.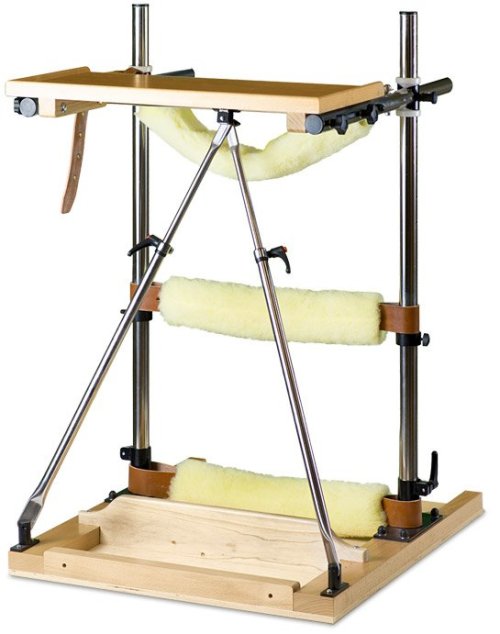 Above: the adjustable Oswestry Standing Frame in its basic form, with optional leather straps.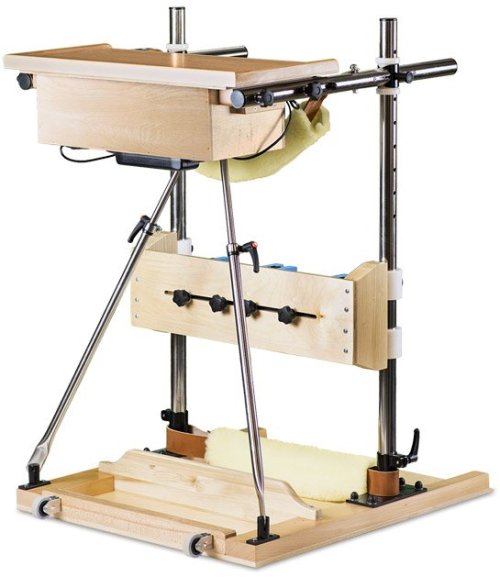 Above: the adjustable frame with power-lifter and harness, leather straps, knee support unit and transporting wheels.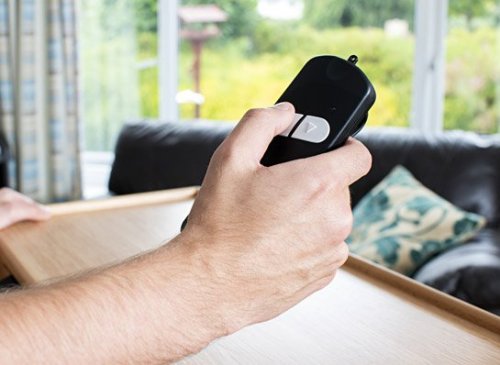 Above: the power-lifter remote control unit.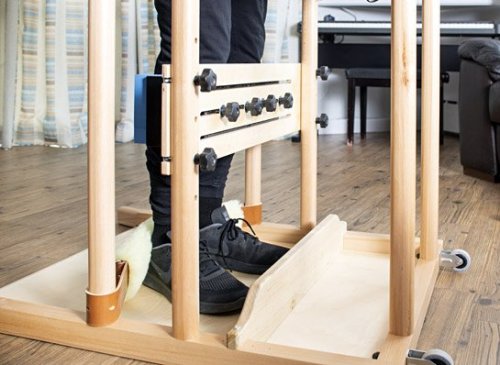 Above: the optional knee support unit (available for all types of frame) is fully adjustable and offers additional lateral support.
Loading Reviews