The Custom-Built Oswestry Standing Frame
Looking and feeling more like a sturdy piece of fine furniture than an medical appliance, the custom-built Oswestry Standing Frame is second-to-none in terms of comfort and effectiveness for physical and social development. Built to the optimum height for the individual user, the frame's robust beech and plywood construction ensures mid-line stability and encourages a posture that strengthens almost every muscle-group in the body. The frame has been skilfully designed to allow the body's respiratory and circulatory systems to work as nature intended, whilst reducing the risk of scoliosis (curvature of the spine) and pressure ulcers caused by prolonged sitting or lying. Designed with decades of feedback from healthcare professionals, and lovingly built by craftsmen, the Custom Oswestry Standing Frame is the ultimate in standing frame comfort and build quality.
Prices from: £700 excl. VAT*
depending upon size and extras required
*VAT relief allows chronically sick or disabled people to buy eligible items such as our beds at 0% VAT - click here for more information.
---
Curved-handle custom frame
The standard frame comes with curved handles and is built to suit the customer's specific body measurements. It is shown here with optional leather straps.
Custom frame with trunk supports
Optional extension trunk supports offer additional support for tetraplegic users. Two additional fleece-covered straps hold the user upright: one in front of the chest; the other behind the waist.
Bedside version with power-lifter and knee supports
The bedside version with stubbed handles offers easier access for wheelchairs. Additionally, an electrically-powered lifter can be fitted beneath the frame's table, onto which can be attached a washable fleece harness (see video below for demonstration). Also shown here is the optional knee support unit with high-density foam. Being adjustable for height and width, it offers additional lateral support over the standard knee strap.
Many other optional extras are available
All the extras shown above can be retro-fitted to existing frames, and other extras include wipe-clean vinyl sleeves, leather straps, a fully adjustable table, and clip-on harnesses. In short, if something can be altered or manufactured to make life easier for the user, we can work with you to customise your frame to your exact needs.
The optional power-lifter in action:
Key dimensions
The custom frame can be built to table heights of between 30" (76cm) to 42" (106cm) to suit the user's body height. We ask for either the user's inner-leg length, or the distance from the floor to the base of their coccyx (shown as 'A' above).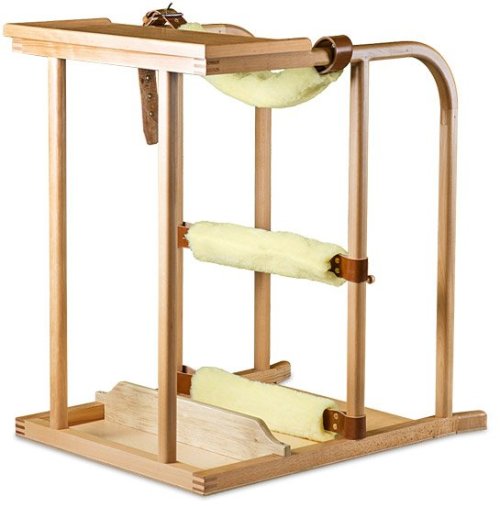 Above: the custom-built Oswestry Standing Frame in its basic form, with optional leather straps and curved handles.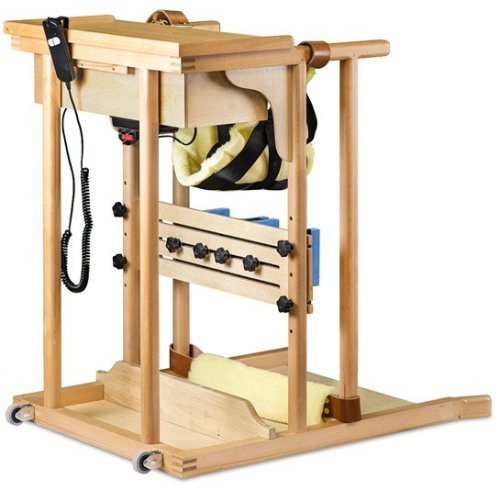 Above: the custom-built frame with power-lifter and harness, leather straps, knee support unit and transporting wheels. This is the 'bedside' version featuring handles that offer easier access for wheelchairs.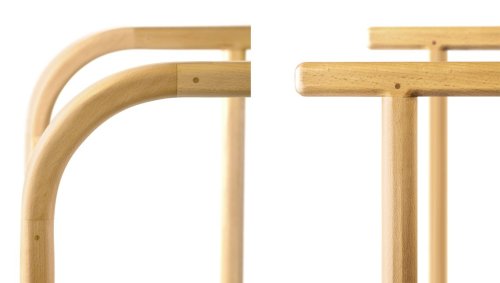 Above: the custom-built frame is available with curved handles (left) or 'bedside' handles for easier access by wheelchair (right).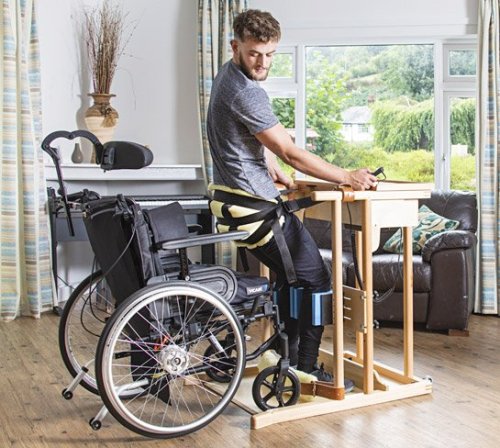 Above: the electrically-powered lifter (with emergency battery back-up) and comfortable harness brings independence to wheelchair users.
Loading Reviews