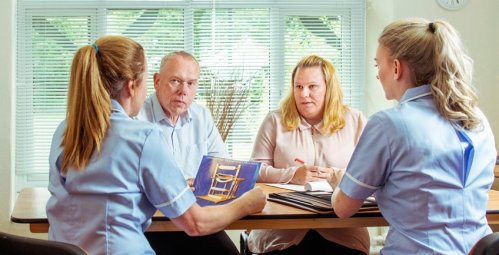 Standing Frames for Healthcare Services
Our standing frame products are widely valued and can be found in most UK hospitals and specialist spinal injury units, facilitating therapeutic standing for patients with conditions ranging from spinal cord injury and stroke, to multiple sclerosis and cerebral palsy. Positive effects of supported standing for patients with upper motor neurone disorders include reduced pain, better breathing, improved digestion and a lower risk of pressure ulcers. Furthermore, the use of standing frames in the home has been found to compliment and ease the provision of over-stretched hospital-based services.
The University of Plymouth's SUMS Study
Following two successful pilot studies, University Hospitals Plymouth NHS Trust and the National Institute for Health Research undertook a three-year study involving 140 severely physically impaired people with MS, across eight NHS facilities. Called Standing Up in Multiple Sclerosis (SUMS), nine investigators (including three professors and three doctors) examined the benefits of using a standing frame for self-management programmes designed to help MS patients rehabilitate in their own homes.
The study's positive results were published in Lancet Neurology, as well as being highlighted as NHS news stories such as the feature about MS sufferer John Kendrick who, following standing frame intervention after years of not being able to move far, was able to walk his daughter down the aisle.
As well as the various physiological benefits that use of a standing frame can bring to patients with upper motor neurone disorders, SUMS and other studies of standing frames also regularly note a widespread sense of achievement and belonging among programme participants, and show that by restoring meaningful life roles, patients' feelings of optimism and normality can often be revived.
The choice of healthcare professionals
We are proud that our custom standing frames were chosen for use in the SUMS Study, and are equally delighted that our products have not only subsequently been recommended to therapists and people with multiple sclerosis, but that the University of Plymouth has produced videos showing how to use our frames, and has even gone as far as publishing a special order form template for our products.
Our standing frames are available in both fixed-height and adjustable-height versions, with or without a powered lifting mechanism. A wide range of optional extras developed alongside clinicians is also available, including trunk supports, knee supports, various types of table, leather straps and vinyl sleeves.
Our frames can be made to order for use in shared services settings within healthcare partnerships, or for rehabilitation centres and hospitals through normal NHS procurement channels. Our standing frames can also be prescribed through the NHS for patients to use in their own homes, funding often being made available through insurance settlements.
Our prices are very competitive and every frame has a 12-month parts and manufacture warranty.
I have been using Oswestry standing frames made by Theo Davis for over 30yrs and found the company to be professional and reliable. Their standing frames were featured in a study we conducted looking at the effectiveness of a home-based standing frame programme in people with progressive MS, and Theo couldn't have been more helpful or friendly. I look forward to many more years of working with them to provide disabled people with this simple but effective piece of equipment which allows them to stand safely upright again.
— Wendy Hendrie